'QwikQual'
Chip makers, QwikQual gets your process ramped up or helps correct a yield excursion.
Chip Makers and FAB Product Engineers.
'QwikQual' can help get your process ramped up, or speed up the solving of a yield excursion in your process.
Sometimes you need to know what your process tool is achieving at a specific location which is critical to your final yield, and so we have introduced a rapid instrument qualification process for FAB engineers, who need site specific process data on a sameday/next day basis.
Our 'QwikQual' service is for 1 or 2 micro cross-sections with imaging and calibrated metrology taken from a specific location to help you independently qualify your manufacturing equipment – specifically for clients who have pre-registered for this service.
We will email the images directly to you as they are produced, allowing you to make quick decisions for your production line and your process.
This service is ideal for foundries who are 'ramping up' a new process or for supplying site specific customer qualification data or for non-standard Quals.
Its got to be

FAST
Independent

From the right location

Correct (Accurate)
Referenced to traceable standards
Reasonably priced
How do I do that?

BEFORE – Sign up to 'QwikQual' service
TODAY – Ship the sample to us to arrive just after 8am – not before (or before 5pm for next day work) – do this first – 2 sections max
Call us for taxi or bike courier contacts
TODAY – Email us your sectioning job instructions (guidelines on website) and telephone us to advise that there is a project arriving.
TOMORROW – We run the job before 'start of day'
TOMORROW – results emailed to you before 10AM

PO – draw down to agreed limit
You can watch on the web with 'LiveFIB' if you want.
Here are some examples of our new services, and how they complement our existing imaging and non-destructive analysis. There is a quick guide to the specific advantages of each technique to show how your FA, NPI or development project can benefit.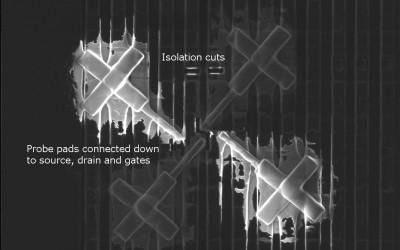 An often overlooked option in the race to get 1st Silicon devices working, is simple electrical probing (μm), but why is this?
The perfect addition to any FIB or FIB-SEM laboratory, a high performance optical microscope with ultra long working distance lenses and an 'ex-situ' FIBxTEM section lift-out manipulator. Our new 'best in class' configuration maximises the benefits of the ex-situ approach across the widest range of materials systems.
Don't Be Shy. Get In Touch.
If you are interested in working together, send us an inquiry and we will get back to you straight away.
Contact Us